Ignited Celebrates Spark the Future 2017 at Agilent Technologies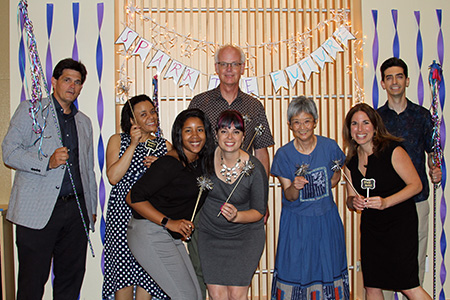 SANTA CLARA, California – August 3, 2017
Over one hundred educators, industry mentors, and other professionals gathered at Agilent Technologies in Santa Clara for the annual celebration of Ignited's Summer Fellowship Program.
For the past 33 years, this program has offered Silicon Valley teachers unique opportunities to work at a local company or research lab and then translate their own real-world experiences into immersive STEM curriculum for their classrooms. This is a transformative experience for Ignited Teacher Fellows, who have impacted 3 million students.
Shari Liss, Ignited's CEO, kicked off the event by welcoming the audience and introducing two Teacher Fellows who shared a few thoughts about the impact of the Summer Fellowship Program. Kenny Contreras, a math teacher at Adrian Wilcox High School in Santa Clara, described how his Ignited Fellowships at Cisco, Lockheed Martin, and Brocade transformed his teaching by giving him the confidence, perspective, and enthusiasm he needed to truly connect with and inspire his students. Andrea Salas, a math, statistics, and computer science teacher at Alhambra Senior High School in Martinez and Ignited Fellow at Lockheed Martin, talked about the five mindsets for innovation that she strives to teach each one of her students. (A transcript of Andrea's inspiring remarks can be found here.)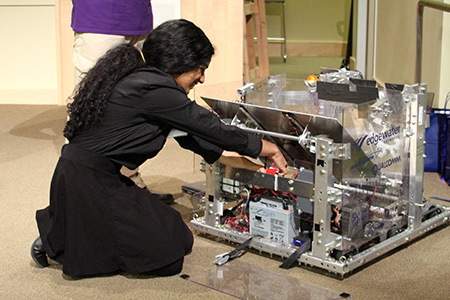 Next, the audience heard from two Ignited partners and advocates. Darlene Solomon, the Chief Technology Officer of Agilent Technologies, described Agilent's longstanding commitment to STEM education and highlighted the outstanding work of Richard Hanson, a Teacher Fellow from Amador Valley High School who spent his summer at Agilent Labs. Steven Currie of the San Francisco Public Utilities Commission then shared his enthusiasm for the fellowship model and working with Ignited to pilot new programs such as Spark Early Education STEM (SparkEES).
Last but not least, a highlight of the evening was hearing from past and current members of Santa Teresa High School Robotics Team: William Thammasouk, Alexis Thammasouk, Vikasni Kalahasthi, and Erika Estrada. They talked about what made robotics interesting to them, showed off their robot, and described how their coach and physics teacher Deb Dimas had expanded the team from a handful of boys to several dozen boys and girls by making the task of building a robot exciting in unexpected ways. They mentioned design thinking, teamwork, leadership, entrepreneurship… and, of course, competition.
About Ignited:
Ignited is inspiring the next generation of innovators. We are a Silicon Valley nonprofit transforming STEM education by fostering a collaborative community of business leaders, scientists, and educators. Together, we aspire to equip all students with the critical skills they need to flourish in a rapidly evolving workplace and actively participate as citizens of our nation.
Visit Ignited at: http://igniteducation.org/
About Agilent:
Agilent is a leader in life sciences, diagnostics and applied chemical markets. The company provides laboratories worldwide with instruments, services, consumables, applications and expertise, enabling customers to gain the insights they seek. Agilent's expertise and trusted collaboration give them the highest confidence in our solutions.
Agilent was created when it spun off from Hewlett-Packard Company in 1999. Since then the company has won hundreds of awards for innovations and has earned even more patents for its inventions. More important is that the number of customers we serve grows each year — another reminder of the power of our partnership.
Visit Agilent at: https://www.agilent.com/