Fleming's and Ignited Raise $10K for Local STEM Education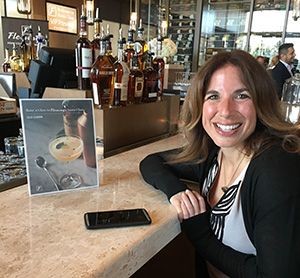 SANTA CLARA, California – August 25, 2017
Tonight, Fleming's Santa Clara rolled out the red carpet to welcome Ignited for a community fundraiser and grand opening party. Guests were greeted with a champagne toast and a stop in the photo booth before entering the brand new restaurant in Santa Clara Square.
To officially kick off the evening, LeRoy Godfrey, Fleming's Santa Clara Operating Partner, and Kurt Krukenberg, President of Ignited's Board, welcomed the audience and thanked them for coming out to support STEM education in their community. Shari Liss, Ignited's CEO, said a few words about Ignited's work and introduced the Ignited teacher fellows around the room.
The party continued with Fleming's signature cocktails, wine, shared plates, live jazz, and a silent auction featuring travel packages, collectible wine, sports memorabilia, and several fun robotics and maker themed items. Guests took full advantage of the opportunity to eat, drink, chat, and celebrate with local teachers, Ignited board members, and new STEM-loving friends.
When the doors closed, the event had raised a total of $10,000 to support STEM in local classrooms. Shari and the Ignited team are thrilled with this amazing result and are tremendously grateful for the commitment and generosity of our donors. Many thanks to Fleming's for hosting this fabulous evening and for helping our community thrive and grow! We are proud to share a commitment to transforming STEM education in local classrooms and look forward to continuing this wonderful partnership.
About Ignited:
Ignited is inspiring the next generation of innovators. We are a Silicon Valley nonprofit transforming STEM education by fostering a collaborative community of business leaders, scientists, and educators. Together, we aspire to equip all students with the critical skills they need to flourish in a rapidly evolving workplace and actively participate as citizens of our nation.
Visit Ignited: http://igniteducation.org/
About Fleming's:
Founded on the premise that a steakhouse can be sophisticated, yet comfortable, Fleming's offers an engaging ambiance and lively environment to enjoy great food and fine wine. Our passion for seasonal ingredients, broad selection, and innovative flavor pairings come together to create a one-of-a-kind dining experience.
At our newest location in Santa Clara Square, you'll find a place for locals and visitors to enjoy an exceptional selection of hand-cut USDA Prime steaks and an expertly curated list of 100 wines by the glass. Stop by after work for a signature cocktail or glass of wine, then stay and indulge in our classic Filet or discover something new like our Dry-Aged Prime Ribeye.
Visit Fleming's Santa Clara: https://www.flemingssteakhouse.com/locations/ca/santa-clara/