Diversity Development Program
Diversity matters. Especially in your next group of Directors, Senior Directors and Vice Presidents. To develop your top talent, you'll need a program to showcase their skills across your entire business. Our one-year rotational program does that, and more.
The Diversity Development Program:
1) Creates visibility for your top talent
We'll raise your top talent's visibility by helping them identify promising summer projects for teams across your company.
2) Engages your diversity groups
The DDP Program mobilizes Employee Resource and Affinity Groups and connects them to teachers and schools in under-served communities.
3) Enhances your brand and reputation
We help you build strong local relationships with under-served schools and explore new ways to support their diverse student populations.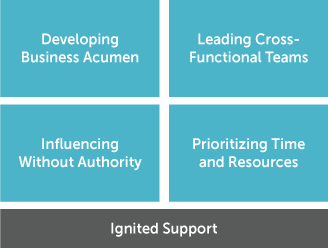 Ignited's Diversity Development Program has been designed to integrate seamlessly with your existing leadership development and diversity programs. Learn more with our short overview.
Develop your
Top Talent
Create the diversity development program your company needs
Develop your
Teams
Build teamwork with hands-on, collaborative Summer Projects
Engage your ERGs and
Employees
Mobilize your employees and diversity Employee Resource and Affinity Groups