34 YEARS OF COLLABORATION
classroom results
One year after their experience, we asked our 2018 Fellows about the impact of the program.
Fellowships transformed teachers.
Rated Fellowship as "the best" or "top 10%" of
their professional development experiences
Teachers changed their approach.
Experimented with new
teaching strategies
Increased student-driven projects
Students benefited.
Felt their teaching was more effective
after their Fellowship experience
Reported that their Fellowship had a
positive impact on student learning
Good teachers remained in the classroom.
Reported an increased commitment
to the profession of teaching
External evaluations
Ignited commissioned Quality Evaluation Designs (QED) to conduct an external evaluation
of how participating in our Summer Fellowship program changes teachers' perspectives and behaviors. The evaluation focuses on teaching, professional development, career decision-making, and understanding of workplace culture and skills. These documents reflect the consistent, enthusiastic support our fellowship program has received from teachers and principals:
Report overview
Report highlights
Full report
2001 Ignited teacher retention and program impact 1985-2000
National board certification
Our Alumni have achieved National Board Certification at more than three times the rate of their peers in California. This certification increasingly has come to define what it means to be a master teacher in the US.
Proportion of Ignited Alumni with National Board Certification Compared with State & Nation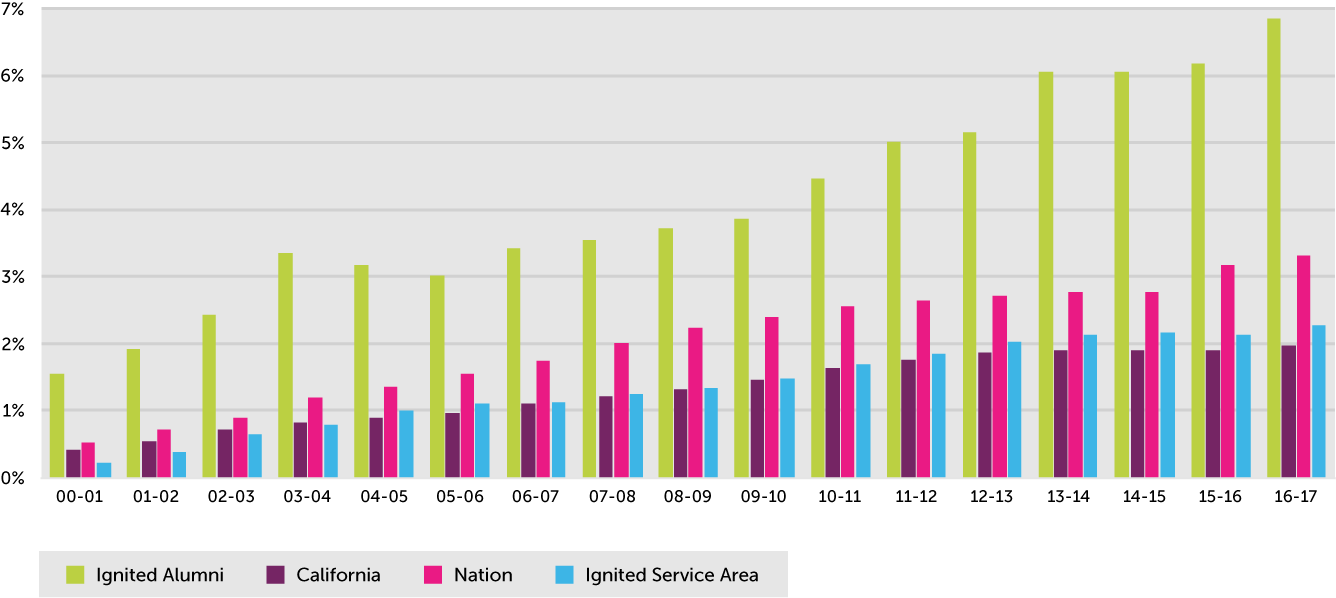 Each year, we survey our program participants to collect their feedback and suggestions.
Here are some evaluation highlights from the 2018 Summer Fellowship program.
would recommend their Teacher Fellow for another fellowship
gained ideas to create curriculum that is relevant to today's workplaces
felt the program was worthwhile for their department or organization
felt stimulated to think about new ways to improve their teaching
felt the fellowship program was personally worthwhile as a mentor
would recommend the Fellowship program to a friend or colleague

"Different shape solar panels generate different amounts of energy. It makes you think how math can be involved in your life for choosing what you want." – Jasmine P, Student of Summer Fellow