The StepUP Career Hub Website
We're currently looking for funding partners to help build a new national career awareness resource.
In 2021, Genentech provided seed funding to establish the StepUP Network. This nationwide group of partners provides equal access to advanced technology and science careers for high school, vocational, and community college students. Initial funding for the Career Hub Website was provided by the Department of the Navy and is currently being developed through 2022 and 2023.
The site brings together:
Career Communities
Teachers form peer-to-peer relationships and learn about careers through webinars, discussions, panels, and online and offline activities
Centralized Resources
The website is a one-stop-shop for career programs, content, training, and experiences
Career Ambassadors
A company employee engagement program with flexible participation opportunities as student role models, company activators, or industry thought leaders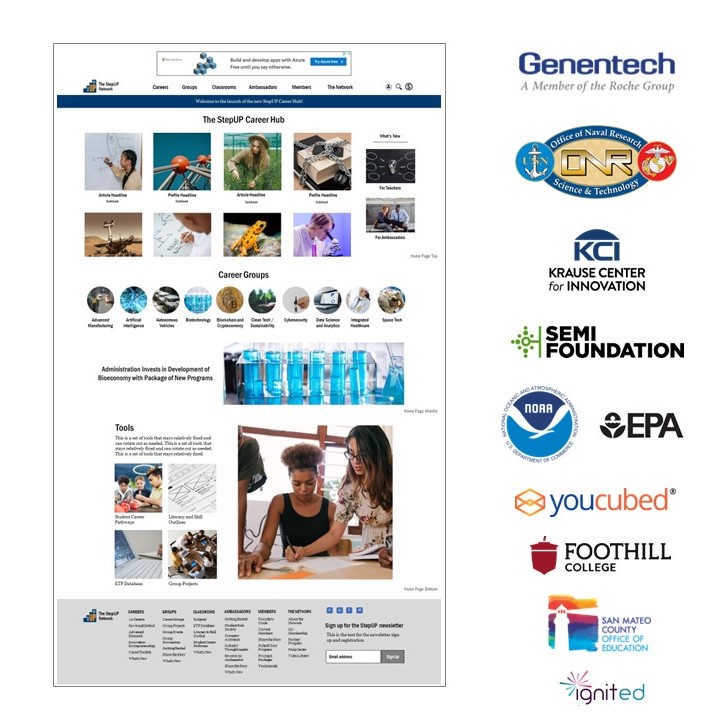 Investment increments are small. With a $10K membership per team, you'll get 10 years of access and build visibility with thousands of teachers and students. To learn more, click on the Contact Us button below.
Get
Started
Set up a 30-minute call with our team
Company Experience
Weeks
Build awareness of critical careers
Collaborative Summer
Projects
Projects at your company for teachers