In early 2021, Genentech's Diverse Future of STEM Fund supported the creation of a national network of industry, education, community, military, and government partners committed to providing career pathways and pipelines for students in low-income, high-needs communities. StepUP for Students, is their new career readiness and workforce development program.
The program gives teachers and their students:
Content
Career-oriented lessons, units, and real-world challenges for 10 Advanced Technology and Science Career Pathways
Training
Enhanced teacher training to deliver the new career-oriented content
Experiences
A wide range of industry experiences for students and teachers to inspire further study and exploration
Ongoing Support
A Nationwide Alumni Learning Community and Ambassador Program keeps educators and industry professionals connected, learning, and engaged around the 10 advanced career pathways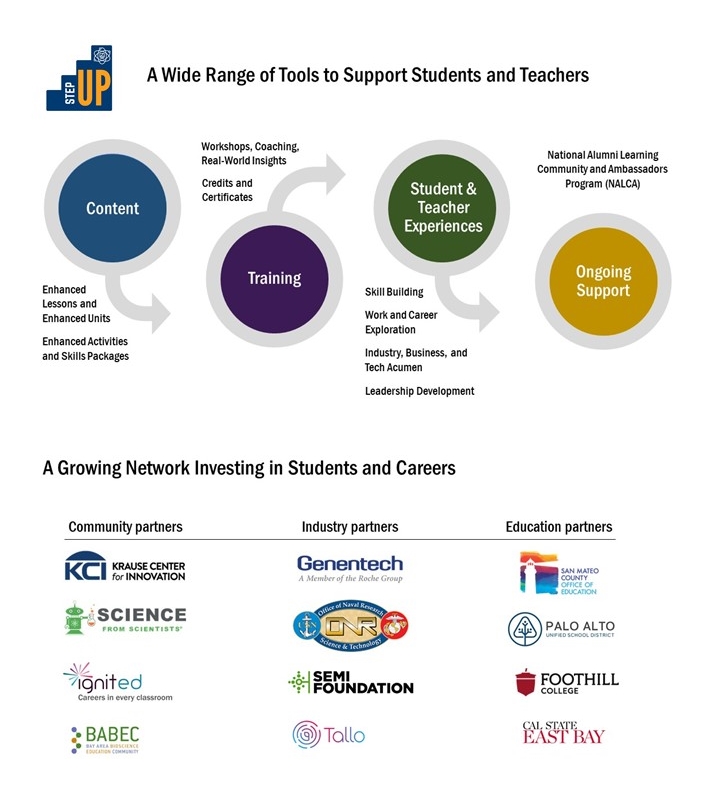 Company employees help build career content and activities, contribute to teacher training, and provide hands-on student and teacher experiences. To learn more, download our StepUP overview or set up a 30-minute call.
Get
Started
Set up a 30-minute call with our team
Company Experience
Weeks
Build awareness of critical careers
Collaborative Summer
Projects
Projects at your company for teachers